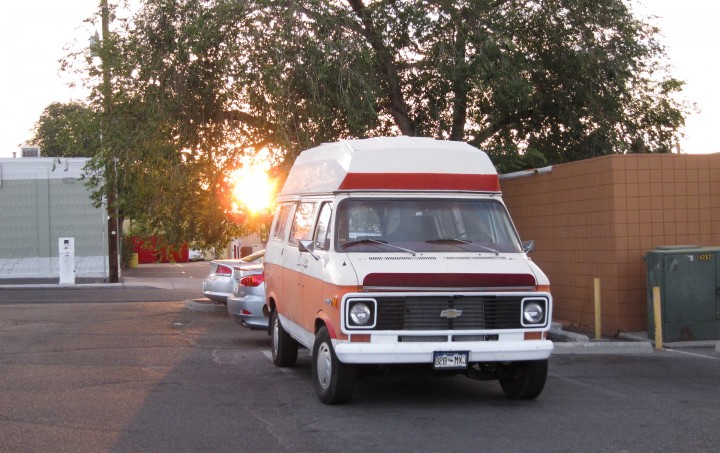 I've done a whole load of fun posts relating to our road trip across the USA. Here's something a little less exciting, mostly pertaining to the tricky details involved in planning a road trip across a distant land.
Jason & Kate's USA Road Trip Guide – revision 1.0 (May 2012)
Renting a Car
We found the best price with Budget. This was partly due to a discount code that waived the one way fee (a fee for not dropping the car back at the same location) which was around $300 – definitely worth looking for. Rental car prices were tricky though, due to a few factors: the variance between locations, extra fees and all the options required to complete a search.
It's kinda tedious, but experimenting with different drop-off/pick-up locations can change the price a little.
Usually the larger locations will be the cheapest, which is great if you're driving from airport to airport but could be inconvenient if you're not. We picked up from a small branch near universal studios and dropped off at Reagan National Airport.
Be wary of Hertz who seem to add a "$???" amount onto your online booking. That worried me too much to go with them.
There's no shortage of options, though for interstate travel it seems like the National/International companies will be the most convenient. There's also no shortage of fine print. I can't help with that outside of telling you I paid for all the possible insurance. The insurance was about equal to the car rental itself. If you're a US resident with car insurance you might not need the additional insurance from the hire company, you might be covered by your own insurance.
If it's convenient buy a GPS, it may be cheaper than the rental price and it'll come in handy even without a car.
Note: Some companies will require drivers to be at least 25 years old.
Road Rules
In order to drive in the USA I didn't need to do anything. That said, I got an international drivers permit (a multilingual certificate of your New Zealand drivers license) just in case it was necessary. It's also wise to brush up on the road rules. Keep in mind that there may be differences in these rules between states. There's plenty of websites to get this information from.
I found driving the in USA to be very easy. The interstate system is great. Drivers were often more courteous – perhaps due to less crowded roads than New Zealand.
My favorite rule was moving towards an inside lane when passing stopped motorists/police cars on the side of the highway. So cautious and so polite.
Hotels, Hostels and Hosts
AirBNB – We stayed with two AirBNB hosts (both with plenty of good reviews) and it really paid off. We found interesting places to stay in both New Orleans and San Francisco. Areas we might not have stayed at otherwise, and with friendly help from the hosts.
For some last minute hotels we went with a simple Kayak search and threw a little caution to the wind. Nothing turned out badly.
Grub
Share a meal. When you can get away with it share a meal. Or order the light meals. We squandered plenty of money by forgetting that a couple can get away with a single meal to share in most diners and cafes. It was also pretty helpful being able to get the remainder to go.
Flights
Annoyingly you can't book flights with certain airlines without a US credit card. Fortunately many major centers can be reached with Virgin. Fun facts: Virgin's prices were great, their queue was freakishly small and their planes very nice. Though you have to pay for the perks on-board food, wi-fi etc. it didn't bother me at all.
The places in between.
Where to stop? Such a big question. If one could drive from LA to Las Vegas to Austin to New Orleans it might not be so difficult. As it stands we needed to choose between places such as Lubbock, Albequerque, Phoenix, El Paso, Houston…. With so many options it's a little daunting. We couldn't possibly figure out nearly enough about all of these places to make anything near an informed decision.
Route
Buy a USA Road Atlas. Invaluable.
Route 66 – we only saw one "Route 66" stop on our trip. Cliché, touristy and not that interesting. I'm not sure about the rest of the route, but I didn't feel compelled.