There's less than three weeks until Kate and I fly to Los Angeles to set out for our American road trip. With so much planning still to do, I can't believe how lucky I am to have so many resources at my disposal. Not that planning is a be-all of road trips. We're looking forward to the parts that come spontaneously and we're willing to chop and change depending on how we feel about a place. But in the effort of both keeping it affordable and ensuring we make it to important things (like Jenny & Johnny in Nashville) we've put together as much of a plan as is reasonable. Hopefully this way we can cut out the unexpected gorging and avoid having too many 700 mile drives*. And so it's been planning planning planning for the past few weeks (after a few months of mere scheming). And while discovering things on your own can be exciting and rewarding I'm thankful for the research those ahead of me have conducted.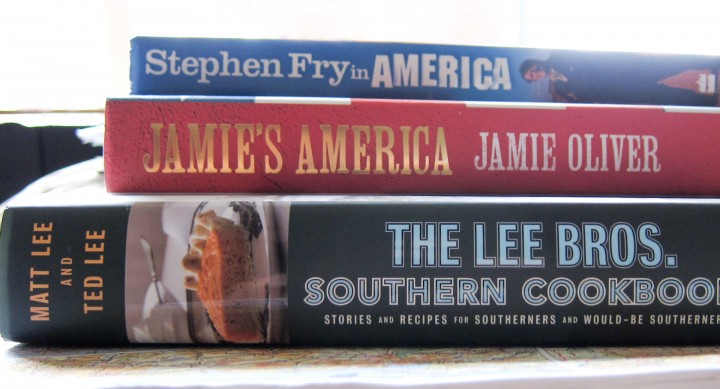 I've read as well as watched the books and T.V. shows from both Stephen Fry and Jamie Oliver. Stephen Fry in America is as charming to read as he is to watch, and while only a small portion of his quick visit has made my todo list his book has given me a general outline of each state and helped me put my head around U.S. geography. Jamie's America is mostly recipes, but he has also included a few stories about the places he visited. The Lee Brothers, themselves a source of inspiration to see The South, published their brilliant Southern Cookbook, that manages to "takes me back" to a place I've never been.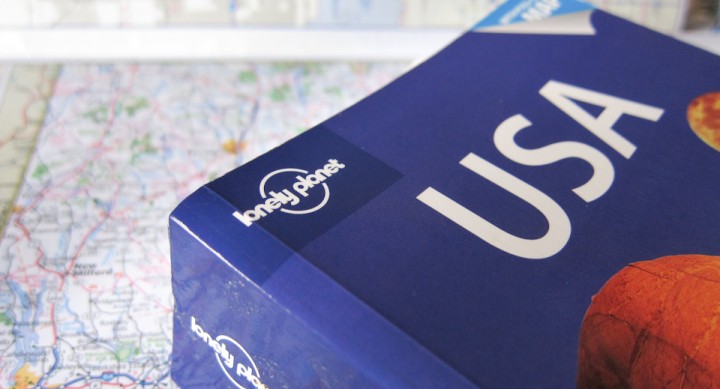 Though it was initially accompanied by a large amount of guilt, I've warmed to The Lonely Planet. America is simply too huge for me to research the whole thing in depth. At a minimum Lonely Planet USA has allowed me a shortcut to find "where do I go in Arizona?" and "is there anything worth stopping for in Mobile Alabama?". We're going to keep it on us in case we make any unexpected detours or need to find accommodation in a pinch.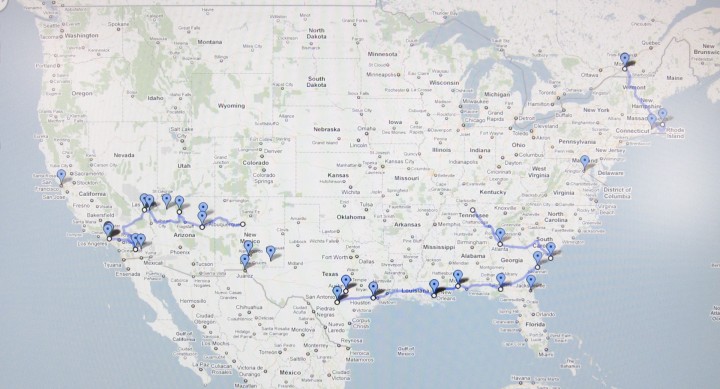 Speaking of detours, it seems we can have a GPS unit for as little as $100USD. How did people get by without these? New Zealand, for the most part, is easy enough, but I'm more than grateful to have the enormity of the US simplified for me. We'll also carry a Rand McNally road atlas – though I haven't decided what size. The second most magical resource has to be Google Maps. It's helping give me at least a rough idea of how far I'll be travelling in each drive, and helped me find which attractions are near or far from each other. Being able to simply find a place you like, then have the hotels show up on a map would have been unfathomable not so long ago. It's pretty awesome living in the future.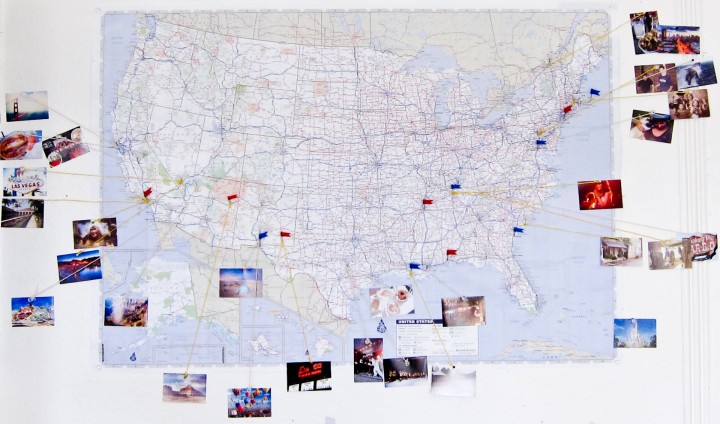 I prefer my thoughts on paper, which can often mean off the monitor. Perhaps a 30″ would help, but even a 24″ is no comparison to a printed map. Keeping a physical map with visual shortcuts has really helped ingrain this trip into my head and give me a good idea of where we're driving and when.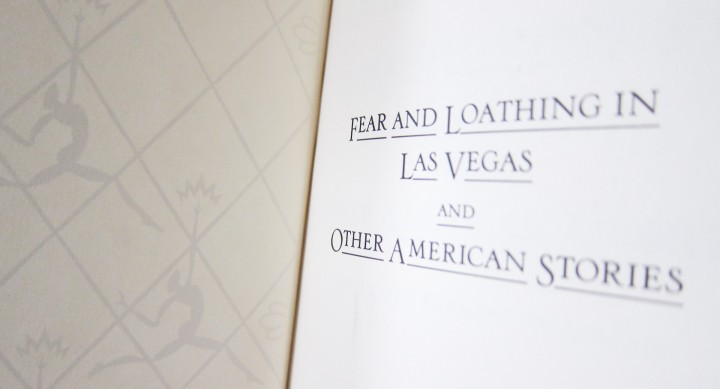 As impressive as travel technology can be, it's the classics that hold inspiration. I'm re-reading my treasured hardcover edition of Fear and Loathing in Las Vegas. I'll double up on this one too and watch the movie before we depart. Whatever Hunter had in mind during this period must sure have vanished by now, or perhaps transformed. And even though we're not looking for The American Dream, we're at least be in the right place.
Honorable mentions:
Anthony Bourdain's appetite wetting show No Reservations is enough inspiration to pack up and go almost anywhere.
Skype – for keeping down my toll bill.
Toodledo – for I can't keep track of all of this in my head.
And without Kayak I'd be further overwhelmed by the number of places to stay and ways to find prices.
*It seems there isn't very much in between Albuquerque and Austin. If you know of something, let me know.